Let's face it: the vast majority of caravan owners are going to need a caravan motor mover. The average caravan weighs around 1300kg, so a motor mover is certainly an essential for all caravan owners. With that in mind, today I'm going to look at the most popular motor movers and determine which are the best.
Here are the best caravan motor movers, updated for 2022:
Before delving into a more detailed look at these motor movers, I'll explain what variables I considered when choosing which motor movers to recommend.
What Makes A Good Motor Mover?
Obviously you can't just pick out a motor mover and hope for the best. There's a lot to consider when it comes to choosing a motor mover for your caravan.
Here's everything I considered when deciding which motor movers I'd go on to recommend in this blog post.
Permissible Overall Weight
The most important consideration when choosing which motor movers to recommend is their permissible overall weight. What I mean by this is the weight that the motor mover is capable of maneuvering.
Some motor movers are capable of moving caravans weighing 1,500kg on a 25% gradient. On the other hand, some motor movers are capable of maneuvering a 2,000kg caravan.
This was obviously an important consideration when recommending motor movers because it's important to recommend motor movers that will work for everyone. It's pointless recommending a ton of motor movers that only move the lightest of caravans! That's why I recommend several motor movers that are capable of moving caravans weighing 1,500 – 2,000kg.
Motor Mover Weight
We also need to think about the weight of the motor mover itself. We all know how important weight limits and so on are when it comes to caravans. And it goes without saying that motor movers are very heavy objects!
Caravans have a limited user payload and your motor mover detracts from that. That's why the motor mover that you choose can seriously affect how much you can store in your caravan.
To give an example of how big an affect your motor mover's weight can have, let's have a look at the Bailey Discovery D4-2 as an example. This Bailey caravan has a user payload of 111kg. The Powrtouch Freedom, a very popular motor mover, weighs 32kg. That's a massive impact on your payload! And that's why we must consider the weight of motor movers before purchasing them and fitting them to our caravans.
You must be confident that adding a motor mover to your caravan won't cause you to exceed your user payload. If you exceed your caravan's maximum payload and you end up in an accident, your insurance policy could be void. That's bad enough without mentioning that you'd be committing a crime!
Best Caravan Motor Movers (Updated For 2022)
Now we've covered the important variables to consider when purchasing a motor mover, I'll explain why these motor movers are the best that you can purchase in 2020.
Starting with the Powrtouch Freedom, a true mainstay from perhaps the most reputable motor mover manufacturer there is.
Powrtouch Freedom. Permissible weight: 1,500kg on a 25% gradient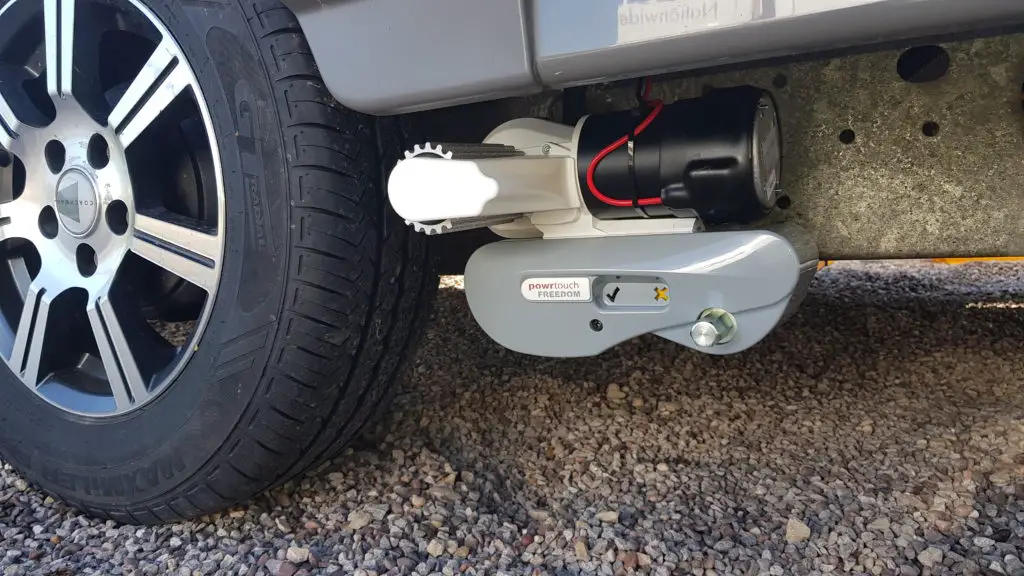 The Powrtouch Freedom, which superseded the incredibly popular Powrtouch Classic, is one of the most widely-used motor movers in the UK. There is a multitude of reasons that this is one of the best motor movers available.
First, here's some key information about the Powrtouch Freedom motor mover:
Roller engagement: Manual
Operating voltage: 12V
Average current consumption: 20A
Weight: 32kg
Permissible overall weight: 1500kg
So here are some of the reasons that this motor mover is highly recommendable.
Inexpensive: The Powrtouch Freedom is usually priced around £600, making it one of the cheapest motor movers from a reputable manufacturer. You know that a Powrtouch motor mover promises exceptional performance, so this is an excellent price for one of their motor movers.
5-year warranty: Powrtouch motor movers are known for their reliability. But if you had any doubts, the Freedom comes with a 5-year warranty. I any problems with your motor mover, the manufacturer will fix it or replace it free of charge.
Soft start: This motor mover has a soft start motor, which might not mean very much to you. However, this motor makes a massive difference to how your caravan moves when you're using the motor mover. It's very difficult to accurately control where your caravan moves when using a motor mover without soft start, as the caravan jerks when the mover starts to move. The Powrtouch Freedom has soft start motors, enabling easier and more accurate control over your caravan. You'll really notice the difference when you're trying to fit your caravan into a tight gap.
As you can tell, the Powrtouch Freedom is a great motor mover. Arguably, the only downside is its weight limit which makes it only suitable for the lighter caravans. Many family caravans are going to be heavier than 1500kg, so this motor mover is arguably for a small market.
The cheapest place I've seen the Powrtouch Freedom is on Camping World. You can purchase it today here.
Powrtouch Evolution. Permissible weight: 2800kg on a 25% gradient (depending on version)
The Evolution is the most powerful motor mover offered by Powrtouch. There are several variations of the Evolution:
Single-axle, manual
Single-axle, auto
Twin-axle 2 motor drive, manual
Twin-axle 2 motor drive, auto
Twin-axle 4 motor drive, manual
Twin-axle 4 motor drive, auto
The Powrtouch Evolution, in its multiple forms, is the best motor mover that money can purchase in my opinion. It really makes manoeuvring your caravan a pain-free experience, thanks to features such as soft start. Anyway, let's have a look at the advantages of all the Evolutions models.
Lightweight: Compared to other motor movers, the Freedom included, the Evolution is rather lightweight. The Freedom was approximately 35kg, all fitting included. That model's capable of moving a caravan weighing 1500kg. The Evolution (single-axle, manual) is capable of moving caravans up to 2000kg. Most would guess that the Evolution would therefore be heavier, but it isn't. The Evolution also weighs approximately 35kg, including all fittings. It's a lightweight motor mover when you consider it can move any single-axle caravan on the market. The twin-axle 2-motor version also weighs only 35kg. The 4-motor obviously weighs much more (70kg), whereas the auto engage single and twin-axle (2-motor version) also weigh 35kg.
Move virtually every caravan: Depending on the model that you choose, you'll be able to move virtually any caravan. For example, the single-axle version of the Evolution will manoeuver caravans weighing up to 2000kg. As far as I know, there isn't a caravan that even weighs 2000kg! That's a testament to the quality of the Powrtouch motor movers. The same can also be said of the twin-axle versions. The 2-motor twin-axle Evolution can move a caravan weighing 2000kg. The 4-motor version can manoeuver a caravan weighing 2800kg with ease.
No-quibble guarantee: All Powrtouch Evolution motor movers come with a no-quibble guarantee of 5 years. All Powrtouch motor movers are built to last, and this guarantee just reinforces the point that you're purchasing an ultra-reliable piece of technology.
Soft start motors: As I stated before, it's really important to choose a motor mover with soft start if possible. Soft start prevents the jerking that you get with motor movers without soft start motors. It gives you precise control over where your caravan is moving, which is very important if you're moving your caravans around corners or trying to fit it into a tight space.
The Powrtouch Evolution is the best motor mover on the market, as far as I can tell. The vast majority of caravan owners use Powrtouch motor movers, with the Evolution in particular a very popular option. I would recommend this model to anyone looking to purchase a motor mover.
Purchase the single-axle automatic version of Powrtouch Evolution on Camping World here. Purchase the twin-axle automatic version for the same place using this link.
Emove EM303a. Permissible weight: 1800kg
The Emove EM303a motor mover is an inexpensive, fully-automatic motor mover designed with single-axle caravans in mind. Most automatic motor movers can set you back a fortune, but this is one of the most affordable motor movers available.
Let's take a look at some of the benefits of this model and try to determine why it's one of the best options out there.
Fully-automatic: The EM303a is fully-automatic, which is a really big advantage. You can engage and disengage the motor mover without an ounce of effort, which cannot be said about the manual engagement motor movers. Fully-automatic motor movers are simply so much easier to use, especially for people new to caravanning.
Affordable: The Emove EM303a fully-automatic motor mover will cost you around £600 – £700 depending on where you look. This is rather cheap for motor movers in general, never mind a fully-automatic motor mover.
No-quibble warranty: This is another motor mover that comes with a quibble-free warranty. The EM303a's warranty lasts for 5 years, so you know that you're purchasing a reliable piece of technology. The warranty is certainly a key advantage to keep in mind when you're deciding whether or not this is the right motor mover for you.
This is an excellent, affordable option. I know that sometimes, an unexpectedly low price can put you off a purchase. But don't get put off the Emove EM303a. This is proven to be a top-quality motor mover; a piece of tech that you'll be able to rely on for years to come.
The Emove EM303a is available on Camping World. You can learn more about this particular motor mover and purchase it here.
Chosen A Motor Mover?
Hopefully this blog post helps you to choose a top-quality, reliable motor mover. There are plenty of motor movers out there, but not all of them offer impressive performance and helpful features such as soft start.
The three motor movers that I've mentioned in this blog post are all really good options for caravan owners looking to invest in a new piece of technology. Let me know in the comments below if you decide upon one of the motor movers that I've recommended here!
If you use any of the links in this article and make a purchase, I will earn a small commission at no extra cost to yourself. It really helps us continue to run the site and produce great content if people use these links.
Here are some of my favourite caravan and RV essentials
Thanks for reading this blog post. I hope you've found it super useful and that you're loving your tourer as much as I love mine! Here are some blog posts I've written with my recommendations for gear and certain essentials you'll need as a caravan or RV owner. These posts do contain affiliate links, so I'll earn a small commission if you purchase anything. But honestly, all of the essentials I've recommended below are things I actually use myself! These are essentials I think all caravan and motorhome owners should have, and I never recommend anything I haven't tried and tested.
Caravan insurance: Caravan insurance is absolutely crucial for protecting your precious tourer, even if it isn't a legal requirement! I use Caravan Guard myself and would wholeheartedly recommend them to everyone, including my family and friends. All my interactions with them have been great when I've needed help, and they're reasonable too. Specialist cover for folding campers and trailer tents. Caravan Guard gives you cover for storm, theft, accidental damage or vandalism under their touring caravan insurance policy. Get a quote today.
Low-wattage kettles: Wherever you're travelling, and if you love a cuppa as much as I do, a low-wattage kettle is an absolute must. You can't use standard power-hogging kettles on sites or you'll blow the fuses — especially if you're travelling in Europe. So these are some of my favourite low-wattage kettles designed for caravans and motorhomes. I've tried all of the kettles I recommend and think they're all brilliant in different ways, so you'd be happy with any of them.
Portable heaters: A portable heater that doesn't consume a ton of power is something I can't go without when I'm touring. If you're like me and you tour any time of the year, no matter the weather, a portable heater for your awning is a must. I've written a post with some of my favourite awning heaters — all of which I've used. I've picked these considering criterion such as power consumption, portability, and safety features. They're all excellent, as well as reasonably priced!