It may not come as a surprise that many people enjoy caravanning. Unfortunately, one factor of caravanning that can prevent people from investing in one is the price. The cost of running a caravan can be expensive, but the initial cost of buying the caravan is one of the biggest deterrents. There are plenty of options that can help with this, such as buying a used caravan or an older model that can be bought at a lower price. In this blog post, I will be looking at some of the best caravans available to buy on various sites that are all under £10,000.
Here are some of the best caravans under 10K:
| Caravan | Berths | Year | Price | Length | Height | Weight |
| --- | --- | --- | --- | --- | --- | --- |
| Elddis Xplore 540 | 2 | 2011 | £10,000 | 5.60m | 2.73m | 1400kg |
| Elddis Xplore 302 | 2 | 2012 | £9,000 | 3.20m | 2.73m | 930kg |
| Venus 308 | 2 | 2014 | £9,000 | 3.96m | 2.60m | 995kg |
| Sterling Eccles Ruby 90 | 4 | 2009 | £10,000 | 5.83m | 2.61m | 1595kg |
| Swift Challenger 580 | 4 | 2009 | £9,000 | 5.83m | 2.61m | 1595kg |
Select the caravan from the list below to be taken to the relevant information:
Elddis Xplore 540 (2011) – £10,000 approx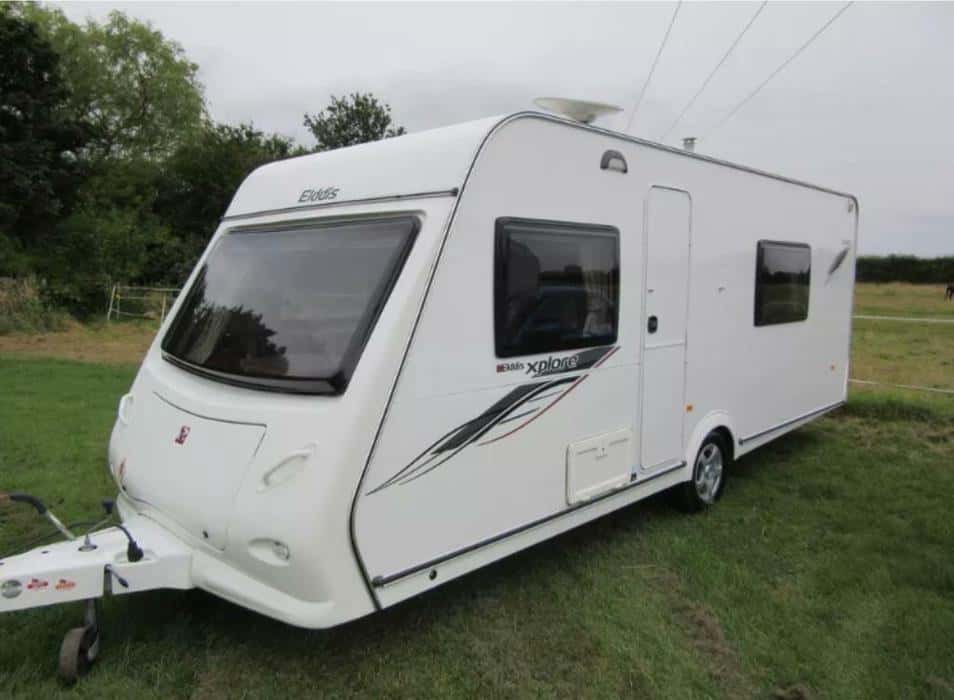 The Elddis Xplore 540 offers a light, bright lounge, thanks to the window being a single unit rather than three smaller ones, allowing it to let in more light. When it comes to economy class caravans, one-piece windows are ideal as they let in more light, giving the caravan a more open and spacious feel. This caravan has been designed to save on weight and cost while also offering some luxury within its layout, including an impressive permanent bed. Here are some of the best features of this caravan.
Fixed bed: Since it is difficult to find a budget-friendly caravan that includes a permanent bed, this is one of the best features this caravan has to offer. It has a fixed double bed making it perfect for couples who want to enjoy their trip and not have to set up their bed every night after a full day of adventure.
Shower room: This is another feature that most cheaper priced caravans don't offer. The shower room can be found at the end of the caravan, right next to the bedroom area, making this layout feel as close to an ensuite as possible.
Length: Another great thing about this caravan is that it offers an impressive amount of space because of how long it is. The length of this caravan has made it possible to include a foxed double bed and a shower room.
There are several impressive features that this caravan has to offer; however, one thing that a lot of people have mentioned is the fact that it has quite a short kitchen. This is because the fixed bed and the shower room take up a lot of space within the caravan, which is why the kitchen falls short. A hinge-up section of the surface offers a little more space; however, this takes up the lounge space.
Elddis Xplore 302 (2012) – £9,999 approx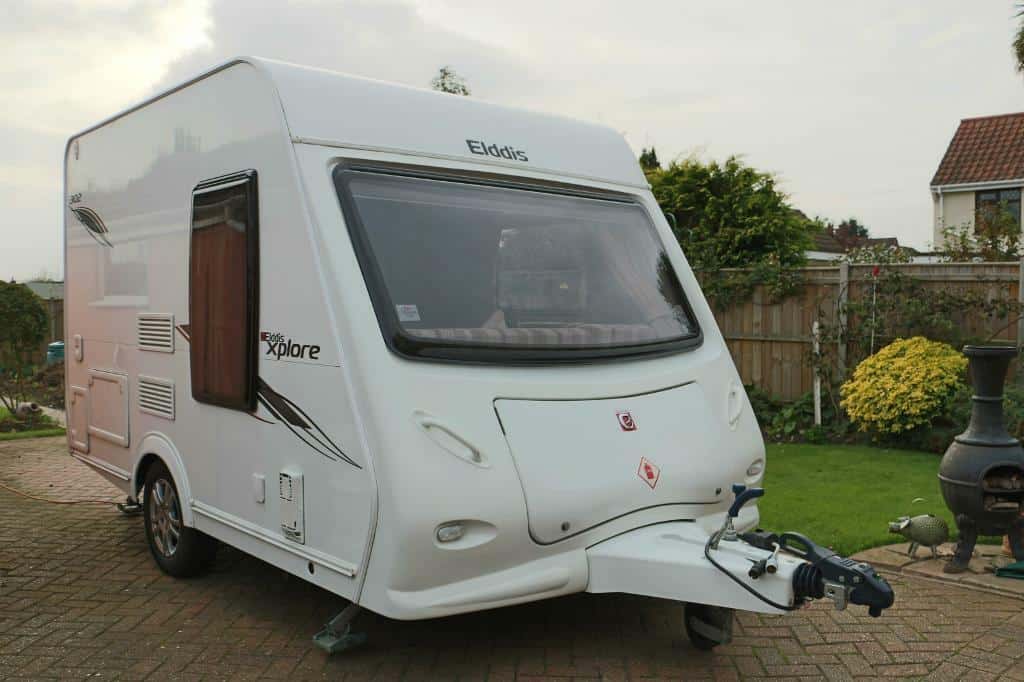 The Elddis Xplore 302 has been popular since its launch and still has a strong appeal for anyone seeking an exceptionally small caravan. It has been designed to meet the needs of caravanners who want something easier to manoeuvre and cheaper to tow. It's also great for any first-time caravanners looking for something relatively small. It is a practical and user-friendly caravan, suitable for couples who want a small and cosy resting place. Here are some of the best features this caravan has to offer.
Storage space: Despite being a small caravan, the 302 has a sizeable double-doored cupboard below the kitchen, as well as an integrated cutlery drawer with ample pan storage under the combi oven/grill. It also has seven in the main living areas. You will also find a small drawer below the front settee (with extra storage under the settee) and a shoe locker under the lounge window.
Impressive kitchen: This is the ideal kitchen for any caravan. Thanks to the fridge being located under the wardrobe, it offers a good amount of storage space. This kitchen is possible as this caravan uses Whale's under-slung space heater instead of a Truma unit that usually takes up a lot of space. It also has a three-burner gas hob, a combination oven-grill, a kettle, and a large circular sink.
Ultra-lightweight: Since this caravan weighs only 930kg, you can easily find a towbar to fit it; however, it is a good idea to ensure that your car's warranty allows you to do this. The lightweight of this caravan means it can be towed with almost any car, such as the Vauxhall Corsa and Ford Fiesta.
The downfall of this caravan comes from the lack of heating in the washroom. This is because the warm air from the caravan heating system doesn't get far enough for it to reach the washroom. This results in the washroom staying damp for quite a while and will stay damp for even longer during colder days, which can make it feel quite uncomfortable to use the washroom when it feels so wet.
Venus 308 (2014) – £9,999 approx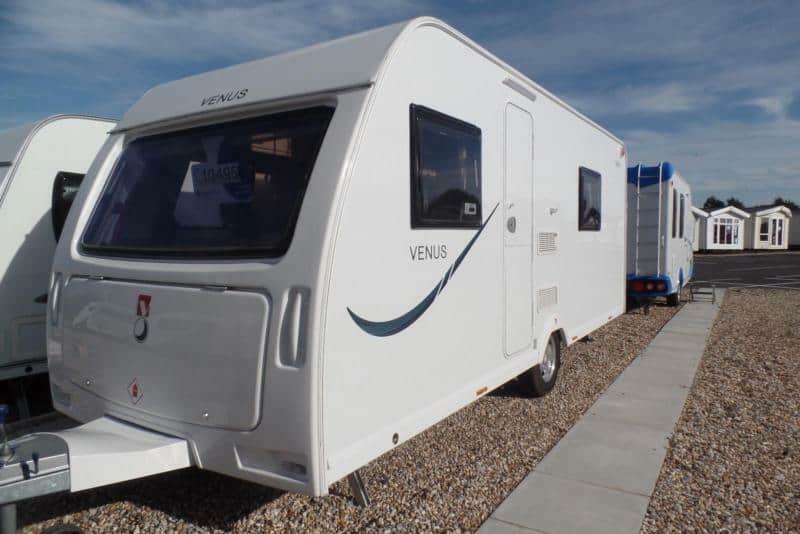 The Venus 380's most significant advantage is that it's easy to tow and can handle any sort of road. It has a surprisingly spacious interior yet still has the ability to rapidly warm up the caravan thanks to the efficiency of its Truma 4kW blown air heating system that creates a comfortable environment. The lightweight and budget-friendly price makes this caravan such a popular one on this list. This 2014 model comes with longer settees/ beds, making it even more convenient than other models. Listed below are some of the other great features this caravan has to offer.
Storage space: Although this caravan is only 3.96m long and 2.12m wide, there is a surprising amount of storage space. You can raise the settee bases, and they will stay in place with the cantilever springs. There you will find large storage areas. This caravan also has six top lockers in the lounge, as well as one above the fridge. The wardrobe gives you 38cm of hanging width and a two-shelf cabinet which is perfect for keeping shoes inside.
Lightweight: The compact width goes unnoticed when you're inside the caravan because of the open-plan layout. However, you do notice it on the road, as it is barely wider than most tow cars. This easy to tow caravan offers you a smooth journey and can be towed by most cars due to its narrow shape and lightweight structure.
Impressive kitchen: In order to cut down weight in this caravan, the designers use a combination oven-grill since it's lighter than an oven. However, this wasn't done purely for weight purposes; it also gives you more space in the kitchen. The shallower depth of this unit means you can have a deep cupboard underneath. It also has a three-burner hob in a triangular shape, which creates surface space between it and the sink.
It is difficult to give this caravan any criticism as it offers many unique features within a narrow and compact body. This is a fantastic caravan for first-time buyers looking for a smaller and lightweight caravan. Another great thing about this caravan is that it is the newest model from others in this blog post and is available for a very affordable £9,999.
Sterling Eccles Ruby 90 (2009) – £10,000 approx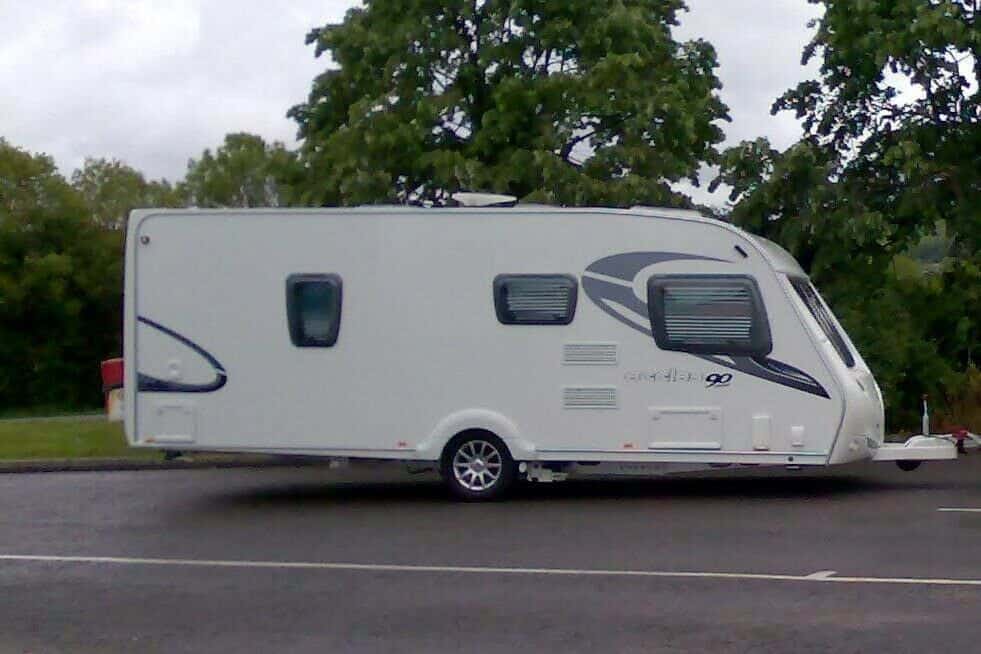 This 2009 Sterling Eccles Ruby offers the luxury of a fixed bed and a spacious washroom. It has quality fittings, tough-gauge aluminium sides, thick pile carpet inside, and gives you the feeling of solid build and luxury. It has a separate shower layout but without the size and weight of a twin-axle. As it weighs less than 1600kg, this caravan doesn't need a huge car to tow it, unlike others of this quality. Here are some of the best features that the Sterling Eccles Ruby 90 has to offer:
Stylish interior: This caravan has been designed with stylish and innovative features. My personal favourite feature of this caravan is the television cabinet. This cabinet can be found on the wall that divides the bed from the lounge, making it cleverly disguised. It also has a button-catch handle below it so that your television can easily be lowered to its watch position.
Spacious washroom: There is quite a large amount of floor space in the centre of the washroom, giving you plenty of space to use. Another impressive feature of this washroom is the door of the shower which has a domestic design, making you feel right at home. There are also two medium-sized cabinets under the sink and above the toilet, giving you enough storage space.
Quality details: The ceiling in this caravan has some pleated roof light blinds which can be moved into the flyscreen position and will still hold their pleated style while being in the tough black net fabric, which lets in some light but keeps out intense sun rays. On the right-hand side of the caravan, there is also a strip of dark wood. This is a design feature that seems to pull together the colour scheme.
The Sterling Eccles Ruby has some fantastic features; however, this may not be the best option if you're looking for a caravan with the best kitchen space. The kitchen in this caravan has very little storage space. There are not many cupboards where you can store your food items or your cutlery, and there is also a lack of worktop space, making it quite challenging to use this small kitchen for cooking comfortably.
Swift Challenger 580 (2009) – £9,999 approx
This Swift Challenger 580 has added length compared to its predecessors. It is a fixed bed caravan that moves this caravan from being a couples caravan to a family caravan. This added fixed bed means that the caravan can sleep up to four people very comfortably, thanks to the added length of this model. Another thing that makes this caravan so popular is how stylish some details are, including the granite effect kitchen sink. Here are some of its other notable features:
Spacious lounge: The main difference between the 2009 Swift Challenger 580 and the 2009 Swift Challenger 560 is the lounge. The 580 offers much more space. This is because instead of a small table unit in the centre between the parallel settees, the 580 has a chest of drawers with a hinged extension tabletop. In addition to this, it has extra length on the settees, giving you a wider double bed, making it more of a family caravan than the 560.
Well-designed kitchen: The kitchen includes a beautiful granite-effect sink which adds a classy, high-quality look. It is made of tough resin that will resist scratches better than other sink materials such as metal. To give this caravan a more cohesive look, this fawn granite-look resin has also been used for the sink in the washroom.
Island bed: To give the bedroom an even more luxurious look, the Swift Challenger 580 is also available with an island bed instead of a fixed bed. With the island bed layout, you will have wardrobes on each side of the bed, plus shoe cupboards beneath them. It also has a corner dressing table unit with two sockets and a television point which allows you to use a hairdryer at the same time as watching TV.
The only downside I would point out on this caravan is that the offside washroom isn't an en suite to the bedroom. A lot of people may not like this as it can be quite inconvenient, however, keeping in mind that this is a family caravan, it may be a good idea to have the washroom located in the centre of the caravan rather than near the bedroom, and it makes it more accessible for the whole family to use.
After looking at some of the best caravans available for under £10,000, it is clear that you can still enjoy caravanning without spending so much on purchasing one. The caravans mentioned above are just five of the best caravans available in this price range.