Whether you and your family camp a lot or you now want to introduce your family to camping, a folding camper is perfect. There are many folding campers designed with family holidays in mind, so there's a unit out there perfect for you.
Before purchasing my first folding camper, I knew I had to pick one that had plenty of room for my family and I. We try to enjoy regular camping trips throughout the year, so the unit needed plenty of room to ensure comfort all round.
As part of my research into the best folding campers for families, I took the time to compile a list. These campers are available at a great price, reliable, and most importantly, spacious.
Pennine Sterling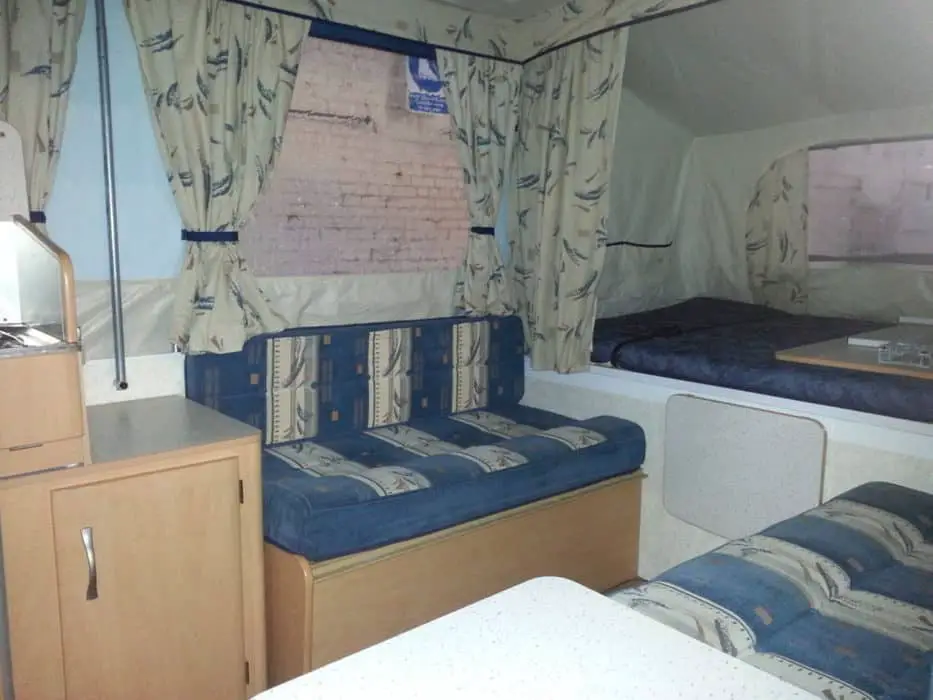 The Pennine Sterling is a 6 berth folding camper, with fold out double beds at either end. There is an additional double bed, made up from the two settees (pictured). It also comes with a full kitchen, as most folding campers do.
This folding camper seems to be one of the smaller 6 berth folding campers available, and space is limited if you don't have or use the awning. If you don't use the awning, you might find that you grow uncomfortable with more than 4 people in the folding camper all day long.
The Sterling has electric, water, and gas systems built in. It also features a great kitchen, which will usually feature a sink, a two ring hob, a grill, and plenty of storage in the form of cupboard space. This kitchen has everything that you'll need to make quick and easy meals while stopping away from home.
The Sterling also has a dining area comfortable for 4 people. This is a minor annoyance with the Sterling folding camper, although it is a problem you'll find with most folding campers. While the Sterling is 6 berth, it's only really properly comfortable with 4 people. The dining table can be left up or folded away, if more room is required. The dining table is spacious and perfect for a board game or two after dinner!
The Sterling can be fully set up within 15 minutes by two adults. Setting up the awning will take a little longer, but two adults can easily set it up together.
A second hand Sterling can cost anywhere between £800 and £5,000, depending on the particular model that you choose, where you purchase it, and any extra features included. The best places to look are usually eBay and Preloved, but you can go straight to the manufacturer, Pennine, to ensure you purchase a reliable and trustworthy model.
Pennine Pathfinder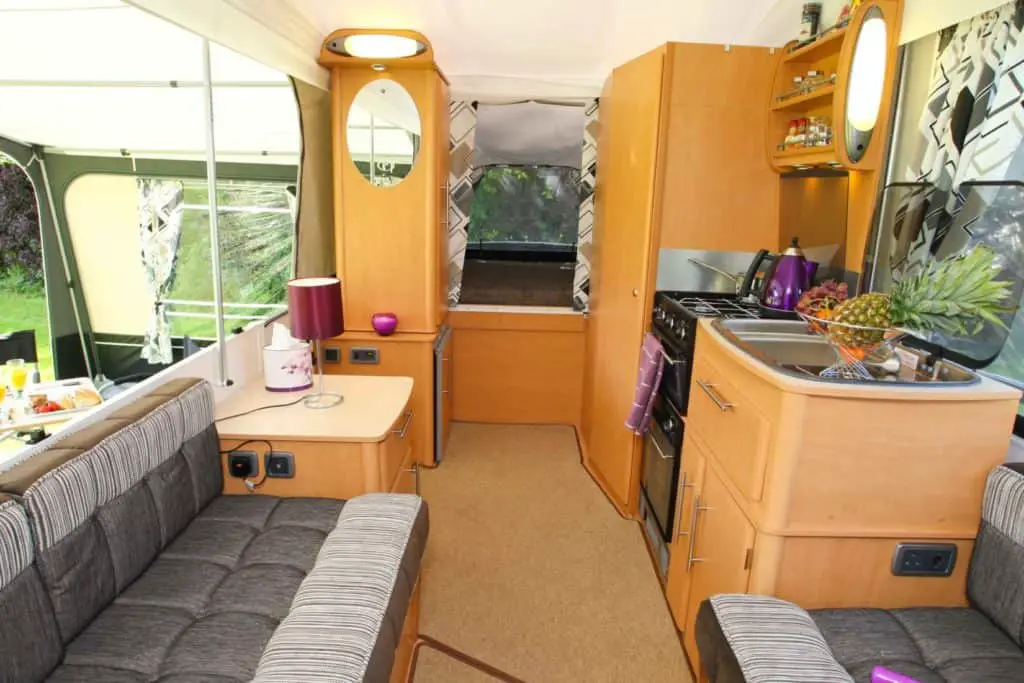 The Pennine Pathfinder is a 6 berth folding camper, with two fixed double beds at either end. As with the Sterling, an additional double bed can be made from the settees. The Pathfinder is perhaps the most popular folding camper available in the UK. It has been the flagship model in the Pennine range since its introduction many years ago.
In contrast to the Sterling I went through above, this is one of the largest 6 berth folding campers available in the UK. It's heavier, wider, longer, and tends to have more features. As well as the kitchen and other facilities found in the majority of folding campers, the Pathfinder typically includes a washroom with cassette toilet and a full oven.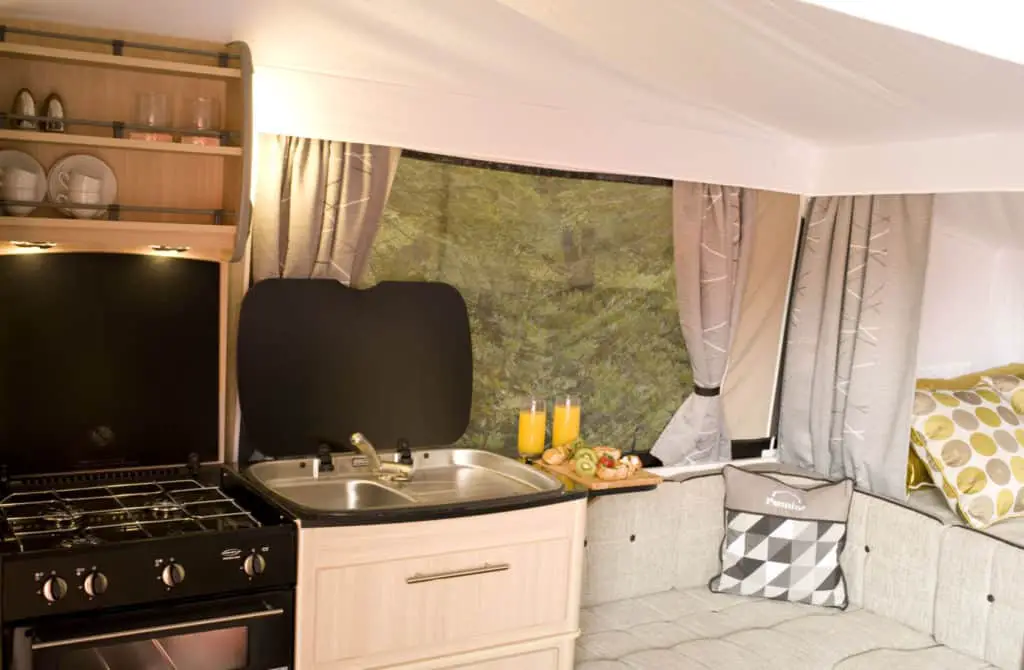 As one of the larger 6 berth folding campers available, the awning might not be as important as with some of the smaller models. However, a Pathfinder tends to come with a particularly large awning extension too. This offers plenty of room for larger families and the awning is a feature you'll be particularly thankful for on rainy days where you're all stuck in!
Again, as with the Sterling, the dining area is better suited for the comfort of 4 people. This is a relatively minor annoyance, but it tends to be more annoying if you have 6 people all wanting to sit down for a meal. In these circumstances, making use of the awning space and setting up an extra dining area is perhaps the best thing to do.
Setting up the main Pathfinder unit will take around 15 – 20 minutes for two people. However, one person could comfortably set up a Pathfinder within 30 minutes. The awning, unfortunately, is much more difficult to set up and in most cases will need two people minimum to set up. This means an additional 30 – 40 minutes on top of your setup time if you are going to use the awning.
Out of all the folding campers available, it is my opinion that the Pennine Pathfinder is the best unit available for families. Most models come with everything that you need: a full-featured kitchen, a washroom with toilet, a spacious seating area (for 4, at least!), and a large awning offering much more space. Some of the newer Pathfinders also come with an external shower point: perfect when the site you're stopping at doesn't have washing facilities, such as a Caravan-only site.
A second hand Pennine Pathfinder can cost anything between £1,000 and £10,000 depending where you look and the age of the model. A brand new Pathfinder costs £16,695 at the time of writing but features some improvements over older models, such as the Isabella acrylic canvas. This canvas is more water repellent and offers more insulation, which could be a deciding factor on which model you choose. The Isabella canvases were first used in 2012, so any model 2012 onward will feature these quicker drying, more insulated canvases.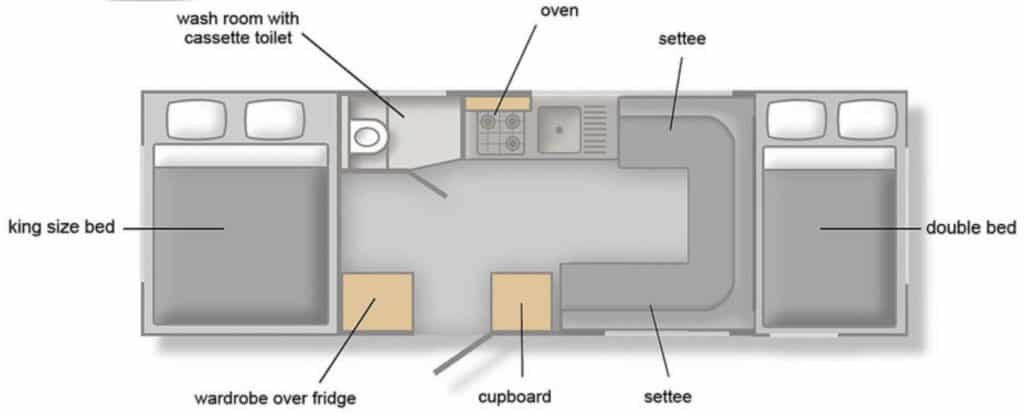 Air Opus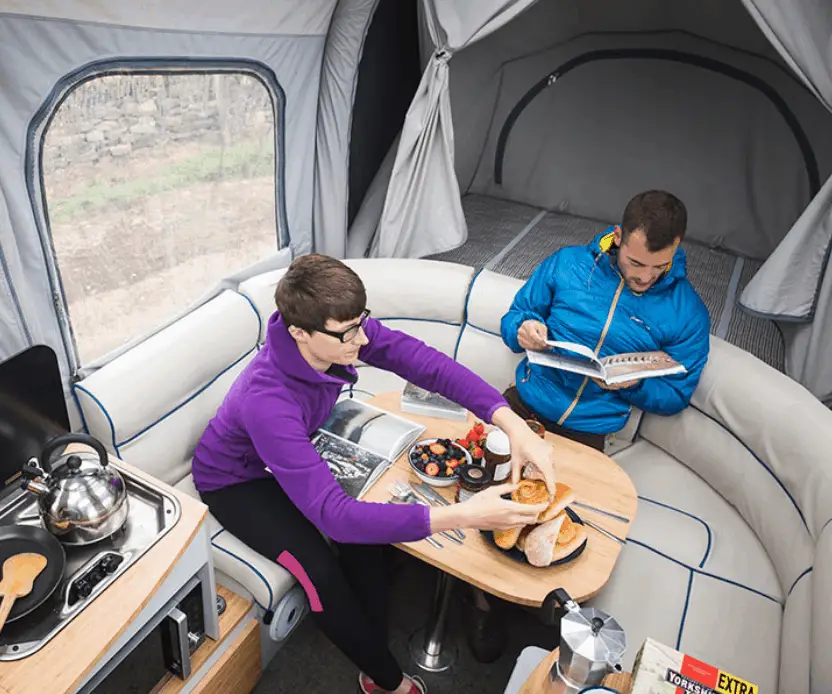 The Air Opus is a 6-berth folding camper. The Air Opus has two fixed double bed areas, with one on each end. As in both of the Pennine units I've mentioned, the seating area can be converted into an additional double bed. Although Opus folding campers aren't as well known as Pennine units, the Air Opus is one of my very favourite folding campers.
The Air Opus is very spacious. The internal height of the Air Opus is nearly 2.5 metres, which definitely helps the unit feel spacious. Despite this, the base unit is missing a lot of the features you'd find in other units from other manufacturers. For example, there isn't a toilet built into the main unit. Nor is there plenty of cupboard space, although there is plenty of storage hidden away.

As you can see in the above floor plan, the base Air Opus unit has a kitchen and seating area but doesn't feature much beyond that. The kitchen features 2 gas hobs, a fridge, a sink, and a microwave. While there is no toilet in the base unit, the Air Opus does come with a portable toilet.
The Air Opus includes a full awning, depending on the model that you choose. The awning really expands the area available to you and is, in my opinion, necessary for anything more than a couple of days away from home.
Although the Pathfinder has more features, this is still one of my favourite folding campers. You might wonder why, if the Pathfinder contains more. Well, the Air Opus, as you may have predicted from the name, is self-inflating. This takes all the manual work out of erecting the unit. Basically all you have to do is press a button and the Air Opus will put itself up. This is a massive advantage over virtually every other folding camper and perfect for families that want a unit that's easy to set up.
The fact that the Air Opus is self-inflating is reason alone to choose this folding camper over any other available. I really do think this is one of your best options, if you're able to afford it. While there is no toilet in the main unit, there is one included to use in the awning. Since the awning puts itself up, you won't be so hesitant to put up the awning like you might be with another folding camper where it's a manual job.
The price is quite a sticking point with the Air Opus. The 'Full Monty' is available brand new for £18,995, which is quite a lot more than the other two units I've mentioned. Second hand, an Air Opus tends to remain expensive. However, if you have the budget, this is the option to go for every time, mainly because of how easy it is to put up, how spacious it is, and the facilities it contains.